Cressington Elite Engineered Unfinished Oak 220m x 20/6mm Wood Flooring
Cressington Elite Engineered Unfinished Oak 220m x 20/6mm Wood Flooring by can be bought for £43.99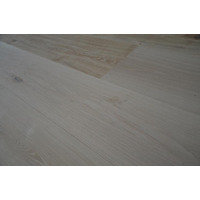 Cressington Elite Engineered Unfinished Oak 220m x 20/6mm Wood Flooring
A fantastic unfinished oak engineered wood flooring. Each individual board is 220mm (22cm), the overall thickness of the planks is 20mm (2cm), including a top 6mm layer of an oak veneer. The 6mm wear layer enables you to sand down and refinish the surface up to 6 times. This shouldn't be necessary for the first 10-15 years in most domestic environments. Engineered flooring, such as this, is highly resilient to temperature and humidity changes meaning they can be laid in most rooms in the home, including conservatories, with the only exception being the bathroom. Due to the stability of our engineered flooring products laying the flooring in rooms heated with underfloor heating is not a problem. Each board is manufactured with a tongue and groove profile, so each board can simply be glued together. The grade of this oak is mixed, meaning it will contain some knots as is typical with oak products.
This engineered oak would usually be fitted as a floating floor installation, where an underlay is laid onto the subfloor beneath the flooring, this gives added protection from any damp and will act as a sound barrier and insulator.
This product was last updated on 10/01/2020 17:48 in the category Engineered Wood > Unfinished
Flooring 365 3777850 by Flooring365